The biggest area of PiezoNova production is in the customized or OEM products of many kinds of piezoelectric sensors, transducers or stacks.
We maintain the confidentiality of our customers and we don't publish these products.  
 The PiezoNova experts have a more than 25 years of experience in average with development of optimal design as well as manufacturing of high-quality sensors and transducers. We can produce or optimize your existing sensors or transducers!
From January of 2022 is also available the clean room production!
In addition to custom or OEM design PiezoNova also offers own
standard range of sensors and transdusers:

Acccelerometers 
Ultrasonics sensors 
Preasure sensors 
Strain sensors
If you do not choose a sensor from our standard range, please contact us at info@piezonova.com and we will do our best to offer you a reliable custom designed product

Main advantages of piezo sensors and transducers:
– Low energy consumption
– Extremely high temperature range
– Low sensitivity to temperature and magnetic field
– Low transverse sensitivity
– High stability, time stability, reliability, even robust still compact
– Active signal producing component
What is Piezo sensors and Transducer? 
 Sensor is a device which detects one form of energy and converts the data to electrical energy.
 Transducer is a device which converts one form of energy into another one (anyone). In fact, sensor is  a type of transducer. However, transducers also consist of devices that convert energy into other forms, such as actuators.
 Piezoelectric transducers typically transmit and receive waves used for sensing. Piezo transducers convert electric charges into energy, for instance ultrasonic waves. Piezo transducer typically operates at resonant frequency with various construction options and power levels.
 Piezoelectric sensors convert mechanical movements (acceleration pressure, temperature or strain) to electric signals.
 We have more than 25 years of experience with development of optimal design as well as manufacturing of high-quality sensors and transducers.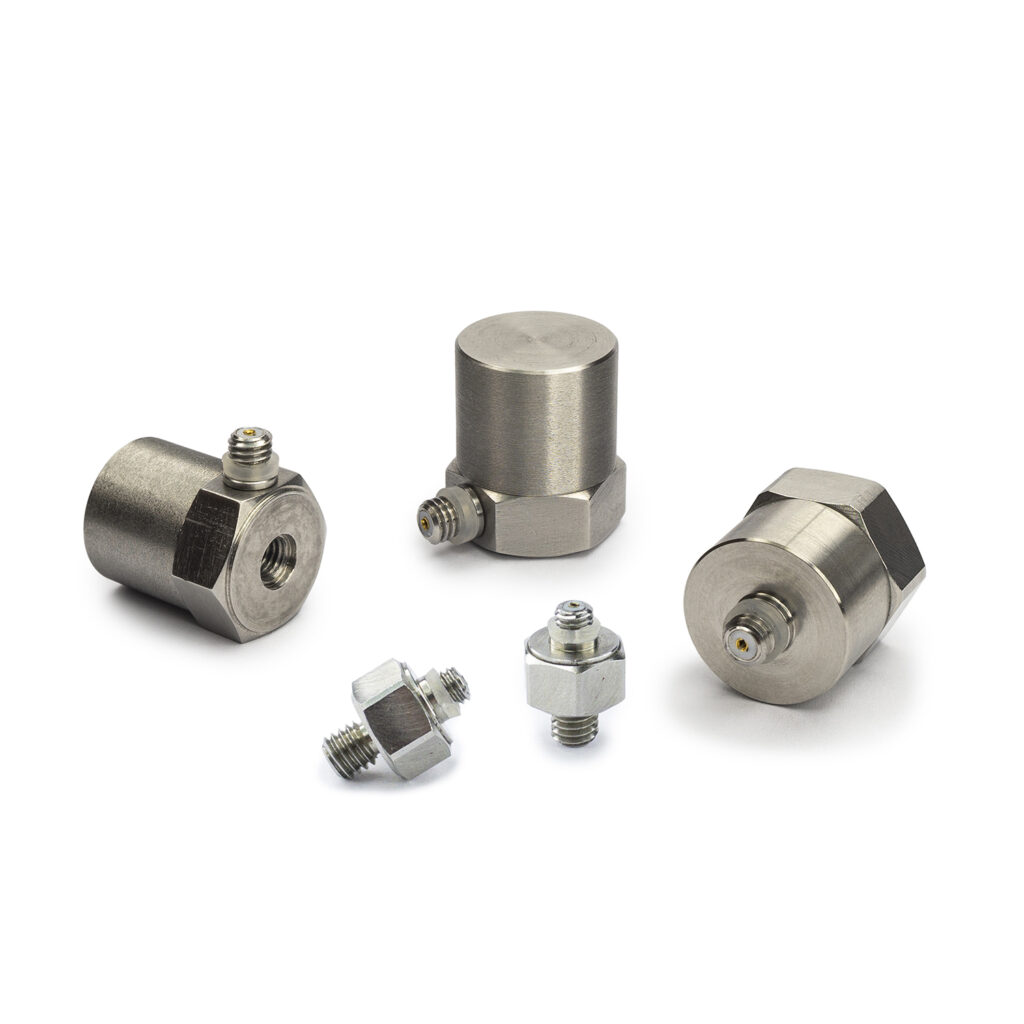 Accelerometers
Parameter
unit
PN 100
PN 128
PN 129
PN 162
Diametrals
 

Accelerometer type
 
piezoelectric
piezoelectric
piezoelectric
piezoelectric
Output
 
charge/voltage 
charge/voltage 
charge/voltage 
charge/voltage 
design
 
Disc Shear ®
Disc Shear ®
Disc Shear ®
Disc Shear ®
Charge sensitivity 
pC/ms-2
3,1
3,1
3,1
10
Capability
pF 
400
400
400
400
Mass
g
35
24
32
83
Transverse sensitivity 
%
2
2
2
2
Resonance frequency (mounted 180g)
kHz
22
22
22
16
Max. shock acceleration
kms-2
10
10
10
10
Min. leak resistance (at room temp.)
Gohm
10
10
10
10
Temperature range
°C
40 ÷ 260
41 ÷ 260
42 ÷ 260
43 ÷ 260
Material
 
stainelss steel 
stainelss steel 
stainelss steel
stainelss steel 
Electrical connector 
 
10-32 UNF
10-32 UNF
10-32 UNF
10-32 UNF
Outlet
 
radial
axial
radial
axial
Mounting thread x length 
 
M5x5
M5x5
M5x5
M5x5